So, you're now a beatmatching pro, you know your DJ equipment inside out, and words like "phrase," "breakdown" and "bar" are part of your daily vocabulary. Great! It's time to move on and learn how to mix tracks. Today we'll get a taste of what mixing is by making a simple transition from one record to another.
Before You Begin: Setting Your Sound Levels
It's doesn't happen too often that two tracks from two different records are of the same exact volume. (As if it weren't enough for them to be recorded in different tempos, too!) One record may be insanely loud whereas another one, played on the same turntable, may be so soft you can barely hear it.
Your job as the DJ is to provide uniform volume level for all tracks played on the dancefloor. The rule of thumb is this: A channel's level should be set so that in the loudest parts of the song, the channel meter touches on the red from time to time but never really stays there so no clipping occurs. If you don't have channel meters on your mixer, you can monitor the sound level using the Cue Mix meter, or the Master Volume one (the channel's fader has to be fully open then).
Setting a channel's volume level is done with its Gain knob. The track's Gain must be set properly beforehand, well before you start bringing the record in.
If your mixer has channel meters, this is a breeze. As you're beatmatching with the new track playing in your headphones, adjust its Gain so that in the loud parts of the tune, its channel meter just touches on the red occasionally as described above.
If you have no channel meters in your mixer, you can cheat a little bit while you're learning. Open the new track's channel fader and close all others. Put the needle on a loud part of the track and set its Gain according to the mixer's Master Volume meter. Over time, you can learn to set the incoming track's Gain right during the transition, but don't sweat it for now.
OK, the new track has been beatmatched and its sound level has been set. Time to start the transition!
When to Start the New Track?
It's obvious that the new track needs to be started before the old one ends so there's an overlap. You should have enough time to: a). Correct any starting errors in your headphones, b). Bring the new track in to the dance floor, c). Let both tracks play together and d). Gradually fade out the old track. Fortunately, DJs normally play "extended" versions of dance tracks that have long intros and outros, which are perfect for blends.
For the transition to be as smooth as possible, the two tracks' 4-bar phrases (or, even better, 8-bar phrases) should be matched. In this scenario, the changes in the tracks' musical flow will occur simultaneously, which sounds way more natural. Matching phrases is easy; simply make sure to start the new track on the very first beat of an old one's phrase. (There's more on phrase matching in this article.)
Now, suppose that we're making a transition from Get Down (see the article on track structure) to another tune, whose structure happens to be exactly the same. Let's call them track A and track B, respectively. The most straightforward way to mix these tracks is to start B on the beginning of A's instrumental chorus and make the actual transition during the 16-bar section that follows it.
As a result, just when A hits the outro with its pure drum beat, track B will make its entry with its intro's instrumental chorus. The chorus will be gradually ousting the remains of track A and will completely replace it by the end of these 16 bars (or two 8-bar phrases). Here's how it will sound to a guest on the dancefloor:
Track A
What the dancefloor hears
Track B
11. …
12. Instrumental chorus – 16 bars
… (A)
Instrumental chorus (A)
1. Intro
13. Outro – 16 bars
The blend: Outro (A) + Instrumental chorus (B)
2. Instrumental chorus – 16 bars
Verse (B)
… (B)
3. Verse – 8 bars
4. …
Now let's look into this whole process in more detail.
The Transition Step by Step
So, on the dancefloor, you have track A playing that's approaching its ending. Put your headphones on both ears and move the mixer's Cue Mix/Master fader to the middle. Now you can hear both the floor (channel A) and Cue Mix (channel B) in your headphones. Start track B on the first beat of A's instrumental chorus. You have all the time in the world – 16 bars – to correct any starting mistakes and make sure the tracks' beats are in sync.
Note: It's OK to have one ear exposed to the dancefloor or monitors when beatmatching, but when starting track B for a transition, you need to have both tracks in your headphones. The reason is that if you start B to the sound that comes from the speakers, the pesky sound delay will make you align B's beats with a delayed version of A. As a result, track B will be slightly behind the real A. This can become a very unpleasant surprise when it's time to do the blend.
When A's instrumental chorus comes close to its ending, take off your headphones: it's time to start the show. On the first beat of the new 8-bar phrase, quickly move fader B about halfway up while using the other hand to notch A down just a little. Here's a general rule of mixing: Sharp changes during a transition should be made only at the beginning of 8-bar phrases. (We're trying to make the blend indistinguishable from the natural flow of music, and all major changes in tracks take place at new phrases.)
Now expand the conquered territory by moving fader B slowly up and fader A down. Don't forget about maintaining a constant sound level in the dancefloor's speakers by monitoring the mixer's Master Volume meter. The A and B faders will meet at about 75%, although that depends on the mixer.
You haven't forgotten that A's 16-bar outro has two 8-bar phrases in it, right? This means that you can use the beginning of the second phrase to speed things up a little bit. At the right moment, forget about slow fader movements and give fader B a quick push while moving A down even further. Then, devote the rest of the phrase to slowly bringing in B to 100% while taking out A completely. At the new 16-bar phrase, you'll only be hearing the new track in the speakers. The transition is complete!
Crossfader or Channel Upfaders?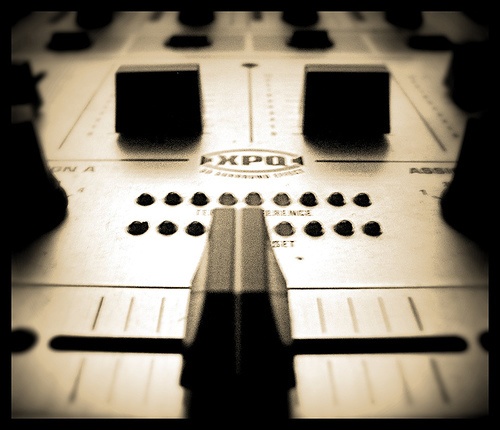 Not sure where I've gotten this from, but when I was learning to mix, I would use the crossfader instead of the upfaders to make transitions between channels. In this approach, both tracks' channel faders are open and you use the crossfader to smoothly transition from one channel to another.
At first, the crossfader didn't give me any trouble. However, as my skills grew, so did the need for finer control over the balance of channels during the blend, which the crossfader was not able to provide. Quote: "We must concede that some traditional mixing tasks are best accomplished with the two knob method."
As a result, I began to use channel faders only for blends, and I suggest that you do the same. Moreover, I haven't yet seen an established DJ who would use the crossfader for mixing (correct me if I've been looking at wrong DJs). Bottom line: leave the crossfader to those who invented it – the scratchers.
Keeping the Tracks Synchronized During the Blend
No matter how good you are at beatmatching, expecting that the two tracks' beats will stay lined up forever is naive. Sooner or later they'll start drifting away from each other. So how do you keep the tracks in sync during the blend?
Get a habit of putting your headphones on from time to time while in a transition. That will allow you to better hear how the records sound together and fix any problems early. If the tracks begin to drift apart, gently correct one of them.
Tip: In order hide your pitch bends from the dancefloor, always adjust the track where there are fewer high and mid frequency sounds at the moment (I'm talking about vocals or high melody notes here). Why? The thing is that when you give a record a push or slow it down to bring its beats in sync with the other tune, the sound's pitch is changed, and this is most noticeable in high sounds. In our example, do your adjustments on track A because it only has drum beat (i.e. lows) in it by the time the transition begins. It's better to leave B with its instrumental chorus and plenty of high notes alone.
That's Not All…
I hope this article has helped you get a clear idea of what mixing is and how to make transitions between tracks. In the guides that follow, we'll talk about using the EQ for finer mixing, as well as other ways to make your blends as smooth and professional sounding as possible.